Johanna's 'Hot Job' of August 2020: 40HP Motor with New York Blower Repair
For the month of August, our own Johanna Markko selected a 40HP motor with 24" New York blower to be in the spotlight.
This particular unit came from an aerospace company and needed a recondition. "Four of these units came in together, and it was the perfect opportunity to highlight this type of job."

The work itself was straightforward and was a typical recondition. The blower assembly was "disassembled, inspected for damage and all parts were cleaned and sandblasted. The snap ring grooves were re-machined, new pillow block bearings were installed and the fan was balanced at 2450 RPM."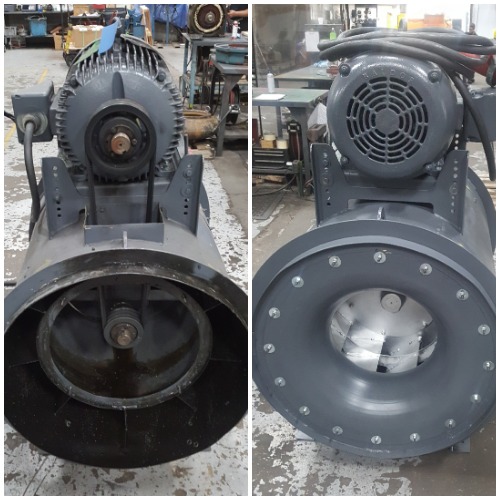 After the motor was torn down, inspected and text with the parts cleaned and prepped for reassembly. "New bearings were installed, we dynamically balanced the rotor, reassembled and tested." The final step was getting the motor painted, making it ready for delivery back to our customer.